Ben Gazsi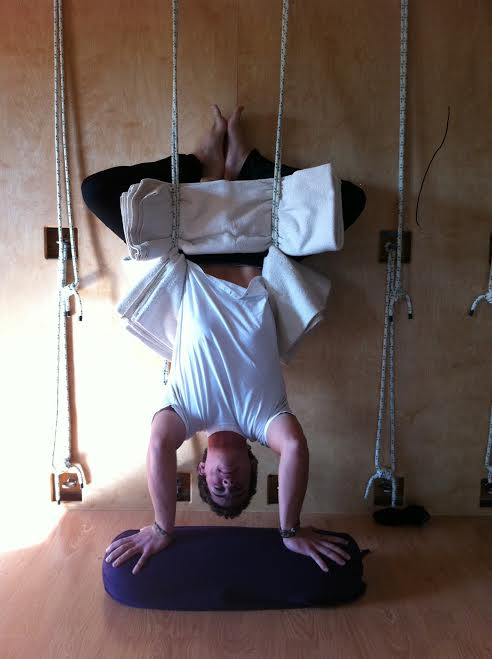 Ben Gazsi, 24, a senior in the sculpture program at WVU, is a student at Inner Life Yoga Studio.
Ben began taking classes in the fall of 2012 after he injured himself a few months earlier, to alleviate the pain and to help him learn how to properly control his body. 
He was working on a farm at the time of the injury but was unaware of it, as there was no sign of pain.  He later found out that he had a pinched nerve in his neck, which was causing his hands to fall asleep whenever he was driving or lifting something heavy.
Ben began physical therapy soon after he was diagnosed with a pinched nerve.  He said that it taught him how to move, but he needed something more.
"Physical therapy definitely helped me, but it is very mechanical," said Ben.  "It only teaches you the anatomy of the muscles."
Ben learned about Inner Life Yoga Studio through his aunt, Dr. Susan Capelle, who is an avid yoga practitioner and is a student there.  She recommended that he take the studio's classes to help his body heal completely, as it has given her more energy and has increased her health and vitality and helped heal her frozen shoulder.
He started out taking the beginner and yoga therapy classes, each for an hour and a half.  Today, he is taking the level one class.
He has also taken the Vinyasa class once before.  In Vinyasa, he explained that there is no pausing between poses, so it feels more like a workout.
Ben said that he is working up through the level one class to progress to more advanced classes.  He is currently practicing Iyengar yoga and using props that allow him to achieve the best possible alignment for his flexibility in a variety of poses such as the extended lateral angle pose, triangle pose, forward bends and downward dog.
He explained that Iyengar yoga is different from other styles of yoga.  Ben explained that in Iyengar yoga, the teachers give more detailed instruction on how to perform the poses, there is more attention given to proper biomechanical alignment in the poses, and props are used to avoid compression of joints when one is working at their end range of motion in the poses.  
He also said that props are further used to bring awareness to certain parts of his body that he is unconscious of and stabilize areas of his body where he is hypermobile, like in his low back and neck.
He has tried other yoga classes before at the WVU Student Rec Center but ended up hurting himself even more because of the limited attention the instructor gives the students.  Ben likes the intimacy of Inner Life's small classes that usually hold five to ten people.  The instructor comes around to each student to make sure they are doing the poses correctly.
In addition to practicing yoga, Ben does weightlifting and goes on hikes.  He said that he is not as healthy and flexible as he should be, but he wants to get better in his exercises, specifically yoga, by practicing on his own.
He wishes that he could take yoga classes every day to get the full benefit from it and speed up the healing process.  However, he manages to take two classes per week and hopes to continue practicing yoga for the rest of his life.
Ben said that he still feels pain in his arms and shoulders but yoga has given him the knowledge on how to minimize the pain.  For instance, he has trouble with his shoulders hunching over, and yoga has helped him learn how to properly reposition them.
"I think the main thing yoga has helped me to do is move better and correct my posture," said Ben.  ""It has given me a better idea of how to position my body in a healthier way and to know how to move correctly."
Ben said that yoga has made him feel healthier overall and that it is a great tool for relieving stress and anxiety.
"I walk out of the yoga classes feeling very calm," said Ben.
He exclaimed that yoga helps the body in the long run, and he is hoping that over time it will completely heal him.  For now, yoga is aiding him in managing his pain.