Iyengar Yoga & Holistic Lifestyle Practices for Health, Well-being and Inner Peace
Serving the Morgantown and surrounding community for 25 years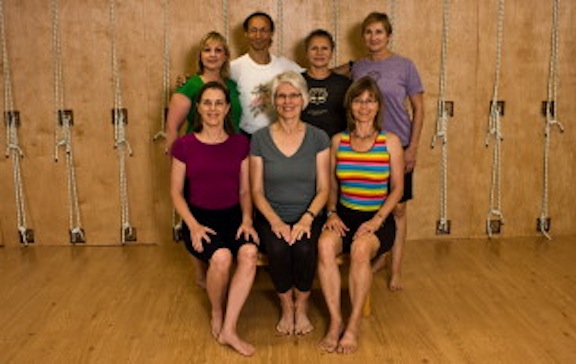 We are offering Live Online Classes
&
Preparing for re-opening our onsite classes


Click here for more information 
Click here for instructions on how to use Zoom 
(online conferencing platform)
Sign up for online classes (45 mins prior to class) under schedule
Select the Livestream option of your choice using the drop-down menu.
       0fferings for 2020
Regular yoga classes & next  six week session  Classes are ongoing so you can start our yoga classes at anytime. Special promotion for Newcomers - unlimited classes for 2 weeks for $25 during this 6 week period.
Yoga for Back Pain: Monday 7 - 8:30 pm & Friday 8:45-10:15 am  Sequences of poses are selected for lengthening and strengthening the back to increase space between vertebral joints and to develop core strength. This program was evaluated in an NIH funded study that was published in SPINE 34 (19), 2066-2076. Pre-registration required. 
30 Days to Healthy Living Program is based on eating clean nutrient dense wholefoods, eliminating allergic and addictive foods from your diet and jump starting your eliminative organs to promote optimal health. This program is  jumpstart a healthy lifestyle. Boot camps start  on every Monday of the month. Meal plans and recipes for vegetarians and omnivores, education and support in closed FB group (opens 7 days prior to the start of the program) plus coaching. Nutritional products used in the program must be purchased 5-7 days in advance to be in your hands for the start of the program. Contact Kimberly at 304 276-4956 to learn more and for enrollment and ordering of your nutritional products. 
The Mindfulness-Based Stress Reduction Program This eight week course based on mindfulness meditation and transforming unconscious reactions into conscious responses takes place on Thursdays from 7-9 pm and has 22 hrs of teaching including a silent 6 hr retreat on the weekend. Registration required. No drop-ins permitted. Course: Mar 12 - April 30 Silent Retreat: April 19 or 26 from 1-7 pm. No fee for current participants; $50 for graduates of the MBSR program.  
Monthly Yoga Workshops Fridays from 5:30-8:30 pm with Junior Intermediate III Iyengar Yoga teacher, Siegfried Bleher. Workshops in 2020: Theme: Yoga as Connection  Jan 17 Standing Poses, Feb 21 Inversions, Mar 20 Forward Bends, Apr 17 Twists, May 22 Back Bends,  June 19 Arm Balances , Sept 18 Restorative Poses, Oct 16 Hip Health & Flexibility, Nov 20 Role of Mindfulness in Asana, Dec 4 Asana as a Window on the Eight Limbs(1 year regular practice needed to attend). Fee: $50  
Yoga as Connection: Yoga is most often described as 'union'--implicit in this term is the notion of discernible parts that are or are to be united.  So the practical side of yoga, what we 'do' when we practice yoga is to foster or discover connection.  How we do this in the different categories of poses is the primary theme for the first six monthly workshops of 2020.
Yoga Teacher Training Program Monthly mentoring sessions with Junior Intermediate III Iyengar Yoga teacher, Siegfried Bleher on Saturday afternoons from 1-4 pm once per month on  Jan 18, Feb 22, Mar 21, Apr 18, May 23, June 20, Sept 19, Oct 17, Nov 21, Dec 5.  Let us know o f your interest. Fee: $50

If you are looking for a place that aspires to teach the art and science of optimal living, you have come to the right place!  
At Inner Life Yoga Studio, our students achieve optimal health and well-being through Iyengar yoga and holistic lifestyle practices. These practices include learning yoga poses (asanas) , breathing practices (pranayama) and meditation, as well as whole foods nutrition, mindful living, and the use of pure, safe and beneficial personal care products.
We teach all ages and all levels, as well as those with special needs--pregnant women, people in pain, poor health, or overweight and special interests - athletics, high performance and stress reduction. There is an emphasis on learning the fundamentals of how to perform yoga poses and their step-by-step progression. This yields maximum benefits and achievements for the student, as well as preparation for the advanced practices of pranayama and meditation.   
Our highly qualified instructors teach the many ways of practicing Iyengar yoga including vinyasa, restorative yoga, and classical asanas (poses) and pranayama (breathing practices). Yoga philosophy is integrated into the higher level asana classes and workshops. We help our students overcome pain and symptoms of dis-ease through our yoga therapy and 50-plus programs. Optimal function and higher states of mind and emotional intelligence can be reached through our regular classes, privates, personal training and coaching sessions. 
Our goal is to meet students where they are, tailor their practice to their needs and aspirations, and help them achieve their desire for high level wellness in the many dimensions of their lives.
We also mentor individuals who aspire to become yoga teachers and prepare them for the certification exams governed by the Iyengar National Association of the United States.
Please complete the survey below and let us know how we can best serve your aspirations for optimal living! If you have any additional questions, or would like to speak with one of us on the phone, please call us at 304 276-4956.