Iyengar Yoga & Holistic Lifestyle Practices for Health, Well-being and Inner Peace

Serving the Morgantown and surrounding community for 18 years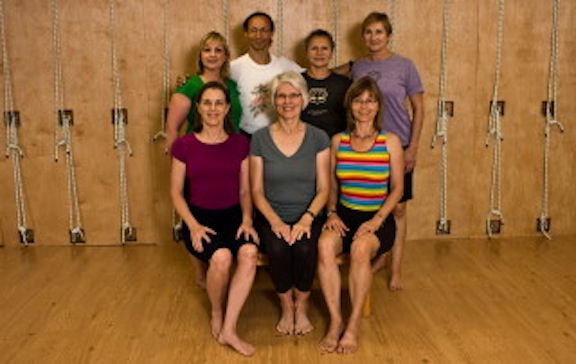 Happy Thanksgiving from Inner Life Yoga Studio
This is the time of year that we take time to be with those we love and to be grateful for all our blessings. We hope you enjoy the Thanksgiving Holiday with family and friends and that you have safe and easy travels. 
The studio will have a limited number of classes during the week of Thanksgiving. For those of you in town before and after Thanksgiving day, these classes are a great opportunity to de-stress and re-energize. You will also have the good fortune to meet fellow yogis who take classes at Inner Life Yoga Studio at a different time than yourself.

Holiday Schedule of Yoga Classes (Nov 24 - 30)
Monday
Multilevel (Level I-III) with Marleen 6:00 - 7:30 pm
Tuesday
Beginner, Beginner 50+/Level I 50+ with Margaret, 10:00 - 11:30 am
Beginner with Margaret, 5:30 - 6:45 pm
Level I with Marlene, 7:00 - 8:30 pm
Wednesday - Saturday
No Classes
Sunday
Level I/II with Margaret, 9:30 - 11:00 am
Gentle Yoga with Jane, 11:15 am - 12:30 pm
All students are welcome to attend any class that fits their skill level and schedule! These classes are not a part of the six week package and thus cannot be used for make-ups. Rather, they can be purchased for $13 (90 minutes) or $12 (75 minutes). 

A big shout out for the teachers who will be teaching the holiday week!
Thursday December 4th      5 - 9 pm    Holiday Extravaganza
Thursday December 11th  6:30 pm  Holiday Potluck Party
Please join us for our holiday potluck party. Bring friends and family for a fun filled evening that includes live music, great conversation and delicious food!

If you are looking for a place that aspires to teach the art and science of optimal living, you have come to the right place!  
At Inner Life Yoga Studio, our students achieve optimal health and well-being through Iyengar yoga and holistic lifestyle practices. These practices include learning yoga poses (asanas) , breathing practices (pranayama) and meditation, as well as whole foods nutrition, mindful living, and the use of pure, safe and beneficial personal care products.
We teach all ages and all levels, as well as those with special needs--pregnant women, people in pain, poor health, or overweight and special interests - athletics, high performance and stress reduction. There is an emphasis on learning the fundamentals of how to perform yoga poses and their step-by-step progression. This yields maximum benefits and achievements for the student, as well as preparation for the advanced practices of pranayama and meditation.   
Our highly qualified instructors teach the many ways of practicing Iyengar yoga including vinyasa, restorative yoga, and classical asanas (poses) and pranayama (breathing practices). Yoga philosophy is integrated into the higher level asana classes and workshops. We help our students overcome pain and symptoms of dis-ease through our yoga therapy and 50-plus programs. Optimal function and higher states of mind and emotional intelligence can be reached through our regular classes, privates, personal training and coaching sessions. 
Our goal is to meet students where they are, tailor their practice to their needs and aspirations, and help them achieve their desire for high level wellness in the many dimensions of their lives.
We also mentor individuals who aspire to become yoga teachers and prepare them for the certification exams governed by the Iyengar National Association of the United States.
Please complete the survey below and let us know how we can best serve your aspirations for optimal living! If you have any additional questions, or would like to speak with one of us on the phone, please call us at 304 276-4956.