Iyengar Yoga & Holistic Lifestyle Practices for Health, Well-being and Inner Peace

Serving the Morgantown and surrounding community for 18 years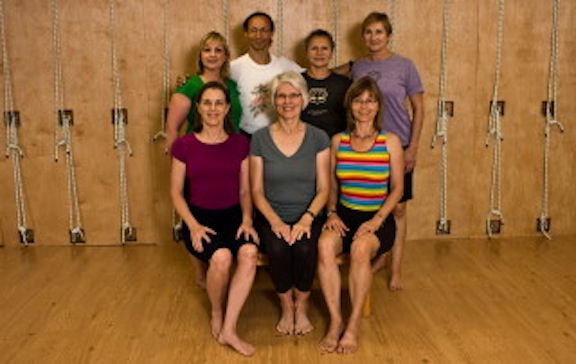 Fall into Wellness Extravaganza on Thursday Sept 11th from 5-9 pm 
Learn the secret to optimal living from staff experts at Inner Life Yoga Studio. They will be on hand to share their knowledge of Iyengar yoga, mindfulness mediation, rolfing deep tissue bodywork, whole foods nutrition and detoxification, and Arbonne's pure, safe and beneficial products. You will be able to sample treatments and products at a variety of booths and participate in FREE sampler classes on the many ways to practice Iyengar yoga, as well as on meditation and our monthly nutritional detox bootcamp.
Classes, treatments and Arbonne products will be raffled off to attendees throughout the event.  Extra raffle tickets will be given for bringing a friend, sampling a service or product and for registering for upcoming classes starting Sept. 15th.  
Come to our Wellness Extravaganza to experience all that Inner Life has to offer to achieve optimal living!                                Sampler Class Schedule
5:30– 50 plus Yoga
6:00– Vinyasa Yoga
6:30– Beginners Yoga
7:00– Gentle Yoga
7:30– Mindfulness Meditation
8:00– Nutritional Detox Bootcamp
8:30- Restorative Yoga 
Discover Arbonne & Product Experience
Friday September 12th from 7-9 pm
Arbonne personal care products have been inspired by nature and enhanced by science and the best kept secret for 35 years..... but not for long, as Arbonne launches in Europe and Asia beginning this year. There is a fabulous business opportunity connected to these healthy products. Now is your chance to look and feel great, and to have a fulfilling career that will change your life and those you help realize their dreams. Learn more about the Arbonne Advantage and business opportunity from visiting National VP, Carol Egelston. The holiday line of products and other major product lines will be on display for you to see and sample. 
 28 Day Detox Bootcamp Potluck & Information Session
September 24th  at Suncrest Methodist Church  (472 Van Voorhis Rd)

6:30 pm Potluck & 7:30 Info session
Come find out how this monthly program has helped many people improve their health, decrease their pain and lose unwanted weight through a clean wholefoods anti-inflammatory diet that minimizes exposure to toxic chemicals and enhances their elimination by improving the function of the digestive and eliminative organs. 

Next Bootcamp starts Oct 6th

Bring a Friend Back to School Special
Get 50% off of individual classes, 6 week yoga course & packages for signing up a friend during September.
The friend has to be a newcomer to the studio. The special rate can only be used once with the same person. However, it is possible to bring multiple friends.

New High and Middle School & College Student Rates
Two week unlimited sampler for $25
25% off 6 week course & packages

If you are looking for a place that aspires to teach the art and science of optimal living, you have come to the right place!  
At Inner Life Yoga Studio, our students achieve optimal health and well-being through Iyengar yoga and holistic lifestyle practices. These practices include learning yoga poses (asanas) , breathing practices (pranayama) and meditation, as well as whole foods nutrition, mindful living, and the use of pure, safe and beneficial personal care products.
We teach all ages and all levels, as well as those with special needs--pregnant women, people in pain, poor health, or overweight and special interests - athletics, high performance and stress reduction. There is an emphasis on learning the fundamentals of how to perform yoga poses and their step-by-step progression. This yields maximum benefits and achievements for the student, as well as preparation for the advanced practices of pranayama and meditation.   
Our highly qualified instructors teach the many ways of practicing Iyengar yoga including vinyasa, restorative yoga, and classical asanas (poses) and pranayama (breathing practices). Yoga philosophy is integrated into the higher level asana classes and workshops. We help our students overcome pain and symptoms of dis-ease through our yoga therapy and 50-plus programs. Optimal function and higher states of mind and emotional intelligence can be reached through our regular classes, privates, personal training and coaching sessions. 
Our goal is to meet students where they are, tailor their practice to their needs and aspirations, and help them achieve their desire for high level wellness in the many dimensions of their lives.
We also mentor individuals who aspire to become yoga teachers and prepare them for the certification exams governed by the Iyengar National Association of the United States.
Please complete the survey below and let us know how we can best serve your aspirations for optimal living! If you have any additional questions, or would like to speak with one of us on the phone, please call us at 304 276-4956.